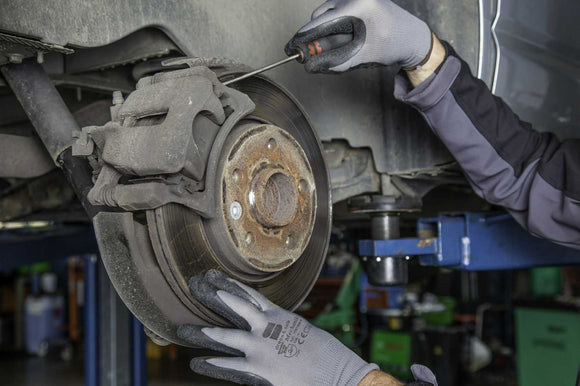 What Is PVF Brake Line?
DECEMBER 27, 2022
0 COMMENTS
Since the start of the pandemic, the number of people doing under-car repairs is up by 10%. This is a higher percentage than projects like accessories and standard maintenance!
If you're ready for a brake line replacement, PVF brake line deserves a look. PVF has many advantages over traditional steel.
Learn more about PVF brake lines and what they can do for your vehicle.
What Is PVF Brake Line?
PVF brake lines are made from steel with a polyvinyl fluoride coating. The PVF coating is baked and cured during production. This process creates a very durable coating that doesn't flake or chip.
Polyvinyl fluoride coating for steel was invented in the 1940s. It has become a high-performance standard for harsh operating conditions.
PVF-coated tubing, lines, and coils are available. You can find PVF brake lines as single components or as part of a complete kit.
Benefits of Polyvinyl Fluoride Coating
Polyvinyl fluoride coating has many benefits as a brake line material. It resists abrasion and corrosion. It protects your brake lines against rust.
PVF brake lines have excellent weatherability. They can withstand harsh conditions like road salt. They can also withstand chemicals, including acids and solvents.
PVF helps prevent the brake line from attracting dirt and debris.
PVF Brake Lines vs. Galvanized Steel
Most vehicles have galvanized steel brake lines as the factory standard. The hot-dip galvanization process provides some protection against rust and corrosion.
However, brake fluid absorbs water very quickly. The brake system is sealed, but the top of the reservoir is open to the air. This allows moisture to get in.
The brake fluid absorbs more and more water as it gets older. This water will cause the steel to rust. It can damage the lines, brake calipers, and wheel cylinders.
PVF makes for a more durable brake line. It resists rust and corrosion better than galvanized steel.
Brake Line Replacement with PVF Brake Lines
For DIY brake line replacement, bending and flaring the line is a significant concern. Proper bending and flaring are essential for the performance of your brakes.
Flaring and bending steel brake lines can be pretty tricky. PVF brake lines are easier to work with.
Be careful not to strip any polyvinyl fluoride coatings as you work. Gaps in the coating can reduce the rust and corrosion resistance of the brake line. The right tools and techniques will help ensure the success of your project.
Flaring Your Brake Line
Flaring the brake line lets you connect two sections of the line. It helps eliminate gaps or cracks between the fitting. Flaring stretches the metal, so it makes a seamless connection.
Other fluid lines in your vehicle, like the fuel line, also use flaring to prevent leaks. Cars in the US have double-flared brake lines.
Flaring the brake line before you bend it sometimes works best. This is especially important for flares near the end of a line. Getting the flaring tool into position ahead of the bend can be more difficult.
A double flaring tool will let you flare the PVF brake line.
After you clamp the tubing into the flaring bar, you can install the yoke to move the cone into the tube. A bell shape will form. Remove the insert and finish feeding the tubing into the bell to form a double flare.
Bending Your Brake Line
After you flare the brake line, be sure to slide the fitting all the way to the flare. Then you can bend the line into the right shape.
Your brake lines travel a winding path around your vehicle's undercarriage. You need to be sure the new line will properly fit in place of the old one.
If you remove the old brake line in one piece, you can use it as a model. If the original line is too damaged, you can use baling wire or welding rod. You can use the wire to make a template and avoid wasting your brake tubing.
Lever-action benders make bending PVF brake lines easier. They give you more control over the bend.
These tools have different positions. This allows for different tubing diameters and different degrees of bend.
PVF brake lines are more resistant to kinking than plain steel, but you still need to be careful. You can dent or crease the line using brake pliers or other tools to make tight bends. Sealing a PVF brake line requires less torque than for a steel line.
Cost of PVF Brake Lines
PVF is a more expensive brake line material than traditional steel lines or steel coated with zinc. However, PVF brake lines are worth the investment. They last longer than traditional brake materials.
You don't need a brake line replacement as often. This saves you money in the long run.
How to Choose the Right Size Brake Lines
Choosing the right size brake line for your brake line replacement is generally straightforward. Most vehicles use a 3/16-inch brake line. This size is also called a CNF-3.
Cars built in the 1950s commonly use a 1/4-inch brake line. You can measure the brake line using calipers if your vehicle has custom brakes.
Where to Find PVF Brake Lines
PVF brake lines have many advantages for your brake line replacement. They resist rust and corrosion. They're an extremely durable brake line.
Polyvinyl fluoride coating isn't the cheapest option. However, the quality and durability make these brake lines an excellent value.
You can count on 4Lifetime Lines for your PVF brake lines. Our product line includes tubing, lines, and coils.
PVF-coated steel from 4Lifetime Lines is very versatile. It's ideal for replacing your brake line or fuel line. It's also a good choice for transmission lines or oil cooler lines.
Check out our selection of PVF brake lines to find the right parts for your brake line replacement.