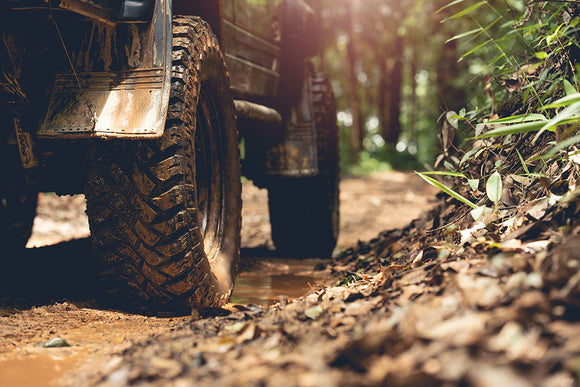 Introducing 4Lifetime's Premium Stainless Steel Brake Line Protector Gravel Guards
Premium Stainless Steel Brake Line Protector Gravel Guards
As an off-road enthusiast, you know that driving on rough terrain can put a lot of strain on your vehicle. From flying debris to rocks, your vehicle's brake lines are constantly at risk of damage. That's where 4Lifetime's Premium Stainless Steel Brake Line Protector Gravel Guards come in. These durable add-ons are designed to protect your fluid lines from the hazards of the road and provide superior protection and smooth braking performance. In this blog post, we'll take a closer look at these gravel guards and how they can protect your vehicle on your next off-road adventure.
The Importance of Protecting Your Vehicle's Brake Lines
Your brake lines are one of the most critical components of your vehicle's braking system. Any damage to these lines can lead to brake failure, which can be extremely dangerous when driving on the road. Driving off-road can put even more strain on these lines, making it even more important to protect them. Our gravel guards are designed to protect your brake lines from rocks, debris, and other hazards encountered during your outdoor adventures.
Superior Quality and Durability
At 4Lifetime, we understand that quality and durability are of utmost importance to our customers. Our gravel guards are meticulously crafted from high-quality stainless steel, ensuring long-lasting protection for your fluid lines. Unlike other gravel guards that are made from inferior materials and wear out quickly, our gravel guards offer superior strength and durability, making them the ultimate off-road accessory.
Variety of Sizes for Any Vehicle
Every vehicle is unique, which is why we offer a comprehensive range of sizes to suit your specific needs. Our gravel guards are available in various sizes, including 3/16", 5/16", 1/4", and 3/8". Whether you're driving a truck, SUV, or off-road vehicle, we have the perfect size to fit your vehicle's brake lines.
Easy to Install
Installation is a breeze, thanks to the gravel guard's simple clamp-on design. There's no need for professional assistance or specialized tools, saving you time and money. Simply follow the included instructions, and in no time, you'll have a secure and reliable brake line protector in place. The stainless steel material used in our gravel guard provides excellent resistance to rust and corrosion. This ensures that your brake line protector remains in top condition, even when exposed to harsh off-road environments.
Protect Your Investment
Your vehicle is an investment, and it's important to protect it from damage. Our gravel guards offer superior protection and help you avoid costly repairs down the road. By investing in our gravel guards, you can have peace of mind knowing that your vehicle is protected on even the roughest off-road trails.
Off-road driving can be exhilarating, but it can also put your vehicle's components at risk of damage. Protecting your brake lines with our Premium Stainless Steel Brake Line Protector Gravel Guards is a simple and effective way to safeguard your investment and maintain smooth braking performance. Whether you're a DIY'er or a professional mechanic, 4Lifetime's gravel guards are the ultimate off-road accessory, providing superior quality, durability, and protection. Browse our collection today and take the first step towards a safer and more enjoyable off-road adventure.