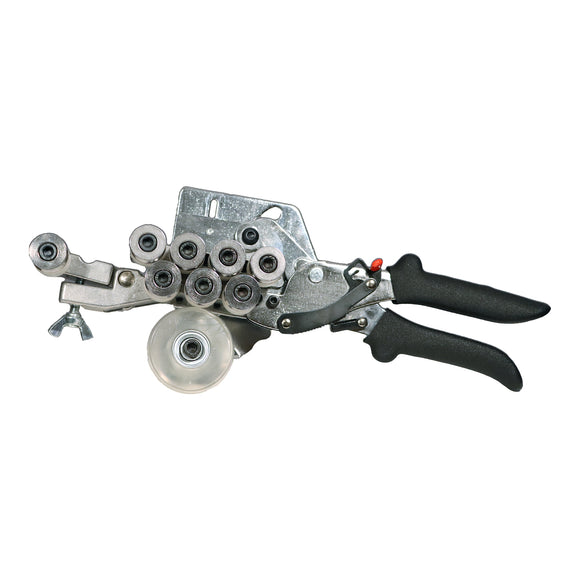 Adjustable Handheld Tubing Straightener
FEBRUARY 15, 2023
0 COMMENTS
Are you looking for an easy and efficient way to straighten bent or coiled fuel lines?
Working with bent or coiled brake lines and fuel lines can be a hassle.
Trying to straighten them out by hand is time-consuming, and you never get the job done right. You end up wasting valuable time and resources trying to fix the problem.
Introducing our new Adjustable Handheld Tubing Straightener! This convenient tool quickly and easily straightens bent or coiled brake tubing or fuel lines in no time at all. Its easy-to-use design makes it perfect for any home mechanic, so you can save both time and money on your next repair job!
Keep reading to learn more about it!
What Is an Adjustable Handheld Tubing Straightener?
An adjustable handheld tubing straightener is a tool that is designed to quickly and easily straighten bent or coiled brake or fuel lines. It works by using adjustable arms with different sizes of rollers to safely and effectively press down on the line, pushing it back into its original shape.
The tool is incredibly easy to use and requires very little effort to operate. Plus, its lightweight and compact design make it perfect for storing in your toolbox or carrying with you wherever you go.
Benefits of an Adjustable Handheld Tubing Straightener
The adjustable handheld copper-nickel tubing straightener has many advantages when it comes to straightening a coiled transmission line. Let's look at them now:
Quick and Easy to Use
With its adjustable arms, the tool can quickly straighten bent or coiled lines with minimal effort. This saves time, allowing you to move on to other tasks quickly.
Lightweight and Compact
The lightweight stainless steel design makes it very portable so you can take it wherever you need it. Plus, its small size makes it easy to store in any toolbox.
Reliable and Durable
Quality and dependability are top priorities when it comes to choosing furniture for your workplace. Our adjustable arms feature a durable construction that ensures reliable support and stability, giving users confidence that their investment will be long-lasting and worth the money.
Cost-Effective
This cost-effective and adjustable handheld coil straightener is the perfect solution for anyone needing to deal with bent or coiled steel brake or fuel lines. This device requires no electricity, it is easily operated with one hand, and also works with tubed sizes from 3/16 inch to 1/2 inch in diameter.
Versatile
Versatility is key when it comes to tools. For the handyman who requires a reliable tool, the versatile adjustable arms are the perfect companion for any repair job. Whether the issue lies in brake lines or fuel lines, these arms can be adjusted to fit any size and straighten with agility and precision.
Once you have them on hand, there's no telling what kind of fixes can be done with ease. Keep a set around so that you have a go-to as soon as you find yourself in need of a dependable tool.
Try Our Adjustable Handheld Tubing Straightener
The adjustable handheld tubing straightener is the perfect tool for anyone who needs to quickly and easily straighten bent or coiled brakes or fuel lines. With its adjustable design and lightweight construction, this convenient tool offers reliable results without putting strain on your arms.
Whether you're a professional mechanic or a DIY enthusiast, the adjustable handheld tubing straightener is sure to be a great addition to your toolkit. Get yours today and start straightening your tubing with ease.